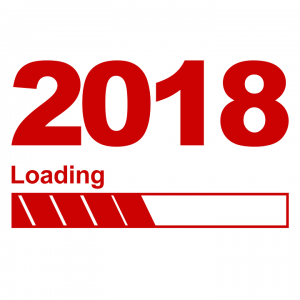 Yesterday, I talked about what I accomplished in 2017. I managed to get a lot of writing, reviewing, and editing done. 2018 will be similarly ambitious! This year, I'm writing a bit more detail about what I plan to work on, so that I can track it better at the end of the year!
In 2018, my writing goals are:
18 new short stories

Two of these are already drafted and just need revisions completed. Several more are outlined but not begun. One of these is the rewrite of the micro-fiction that I had originally planned to finish in 2017. Three stories (including one that is drafted) are being written for anthology calls, while three other stories are more Cobalt City goodness.

3 new novels

These are Brass & Glass 3, my planned expansion of Camp Haunt into a non-epistolary structure, and a post-apocalyptic novel (codename: island).

edit 4 novels

Brass & Glass 2, Brass & Glass 3, codename Kyra, and Camp Haunt. B&G 2 should come back from my editors at Razorgirl very soon, while I hope to hand off B&G 3 to them later in the year. Codename Kyra might be something that I shop around to agents. Camp Haunt will be self-published.

continue reading and reviewing books for MSJ

Based on my current rate, that should be 17 more reviews. I've already lined up the first four books, and I have a couple more on my desk that will likely be 5 and 6, unless we get something else to review before then!

continue working on AustenWorld

I don't really have a metric for this one. We'll probably finish version 3.0 this year. Will it be ready to publish after that? Maybe. But regardless, work needs to continue.

editing Mad Scientist Journal, our annual anthology (Kickstarter to launch in February), and any other copy-editing work that comes my way

I'm not sure if I'll have more copy-editing coming my way outside of MSJ and our anthology, but I'm available if you're looking for a copy editor!
So it'll be another busy year for me, if I can manage to get all of this done!