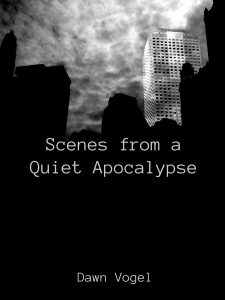 The latest book I've been working on is a weird, experimental piece using the major arcana of the tarot deck as its outline, so to speak. I wrote the pieces of it during the Write Like You're Alive challenge in August this year, and then decided that it was worth prodding into the shape of a novella or novelette (the final word count is still up in the air).
While the book itself still needs some more work, I've got the cover art ready to go. Though my original ideas had a lot more going on, this was ultimately the shape I felt it needed to take. It's nice and stark, which is exactly what this book needs. I also love how the silhouetted buildings are so close to each other to make the lower half of the cover almost claustrophobic.
Assuming all goes according to plan, this book will be out in early February 2018, and I'll be sure to post more about it later!