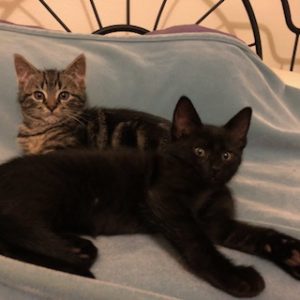 I haven't been getting much reading done recently, because last Tuesday, we picked up the newest members of our household.
Meet Stormageddon "Stormy" Quatro Vogel-Zimmerman (the black cat in the front) and Fognarok "Foggy" (His Highness, Prince Floof) Dos Vogel-Zimmerman (the gray tabby in the back). Their first names are their formal names, while the ones in quotes are their more commonly used names. Foggy has an extra nickname, that he was given by the person who fostered him. And the Spanish numbers in their names are their original names, referring to their birth order. (They were in a litter of five healthy kitties!) We decided to hyphenate their last name because Jeremy and I don't share a last name.
And yes, their names are also nerdy references. Stormageddon comes from a character on Doctor Who, and while Fognarok is a name of Jeremy's creation, he's partially named after Foggy Nelson from Daredevil. Plus we thought the apocalyptic weather theme was perfect for these guys.
Needless to say, they've been quite the distraction, and they have me going to bed later and getting up earlier in order to get in some precious kitten playtime. They're currently housed in our spare bedroom, as we slowly introduce them to their other feline siblings. So far, there's only been some sniffing of one another through carrier doors and bedroom doors, though Stormy did try to make a break for freedom last week. He made it as far as the bathroom, and then didn't know what to do with himself.
We'll be back to our scheduled programming soon, but I figured a cute excuse was a good reason I don't have any recommendations this week.
Except kittens. I will always recommend kittens!