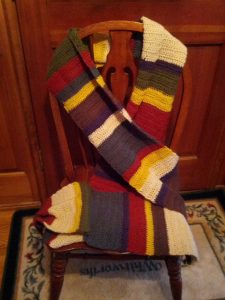 This weekend, I'll be at Anglicon selling my crocheted items, but I'll also be appearing on a couple of panels!
Friday, December 8: Steampunk 101, 3-4 p.m., Cascade 2
What is Steampunk? Where did it come from? We will answer those questions, explore the literary roots of the genre, and discuss its current popularity.
Saturday, December 9: David Tennant: Serious, Creepy, and Everything In Between
Besides playing The Doctor, he's played a Death-Eater in Harry Potter, a detective inspector in Broadchurch, and a psychotic mind-controller in Jessica Jones. Is there anything this man can't do? Join us as we talk about Tennant's various roles and speculate where we'd like to see him go next.
If you don't catch me at one of these panels, stop by and see me in the Dealer's Room!