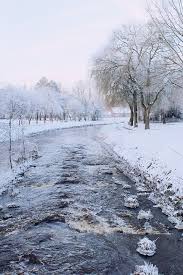 In the northern hemisphere, the weather is either already cold or starting to turn in that direction, so it's a great time to think about writing about the cold. Some authors describe the cold so well that you can feel it–I experienced this while reading the Song of Fire and Ice series in the middle of the summer one year. Once the first winter weather had arrived, I felt like it must be just that cold outside of my comfortable living room!
What's the coldest you've ever been? What does the weather need to look like to keep you indoors? Or what sort of weather would you never want to be stuck in outdoors? Write up a paragraph about any of these things, and maybe you've got the seeds for a story.
This website has some things that other authors have written about the cold. You could springboard off of one of their ideas, or write something new.