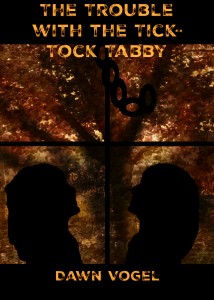 We recently went on vacation to one of our favorite spots, the Edgefield Hotel in Troutdale, Oregon. It's one of the McMenniman's properties, using the renovated buildings from the old Multnomah County Poor Farm. While we were there, I remembered that one of the trees on the property is the tree that I photographed to use on the cover of The Trouble with the Tick-Tock Tabby.
You can see the tree in the background, run through a number of filters to give it a hazy, twilight quality. (If you look very closely, you MIGHT be able to see the rows of grapevines in the background, cementing the place where I took it a bit better.)
For other elements of the cover, I knew that I wanted to have the girls (Chrysanthemum and Marigold) silhouetted, looking up at the chain-link tail of the clockwork cat that is a major part of the story. This mirrors the scene that opens the book, when the girls first discover this rogue feline in their family's mechanical garden. The silhouettes started out as a picture of me as a young teenager, my head thrown back while laughing. I made small alterations to each of the silhouettes to make the two sisters look a bit different from one another.
The rest of the cover was all simple shapes, placed in the right spots on the backdrop of the tree and the silhouettes of the girls.
I've long said that I really want to pay someone to redo this book cover for me, since I wasn't able to make a good enough cover for print books with the photographs I had available. But I plan to give this cover to whoever does the new cover art as their basic design, and simply have them remake in a higher quality version!