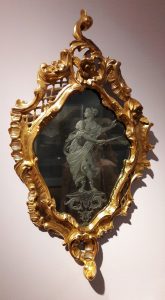 Now that the contract is signed, I can talk about my latest acceptance, which I mentioned in my October 2017 recap.
My story, "Tarnish," will appear in the Spring 2018 issue of Mirror Dance. This story first appeared in Unfixed Timelines as one of my historical fiction stories accompanied by an essay about the real history.
The history behind this story is that of the Veiled Prophet Ball in St. Louis, which is something I grew up knowing about. But it took flipping through a cute picture book of St. Louis at my mom's house with Jeremy, and him subsequently being really confused about the Veiled Prophet, to give me the spark for this story, which ties into the King in Yellow mythology from Lovecraftian stories.
I'll post again when the story is live, but for now, if you want to read it ahead of time, check it out in Unfixed Timelines!