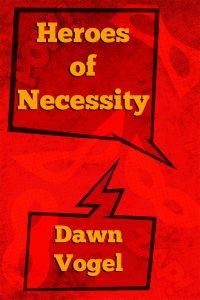 My next collection of short stories is in progress! This one is called Heroes of Necessity, and it's about super heroes who don't fit into the traditional molds.
While the heroes in these stories have powers, most of them don't have substantial powers, none of the kind that would impact the entire world. But they're still heroes in their own right, even if they're just helping out on a small scale. And even if most of them wouldn't refer to themselves as super heroes.
This collection will include three previously published stories and one previously unpublished story, all set outside of the Cobalt City universe. The planned release date is December 5th, and it will be available in ebook only. But if you've got a super hero fan on your holiday list, this might be a nice little digital stocking stuffer for them!