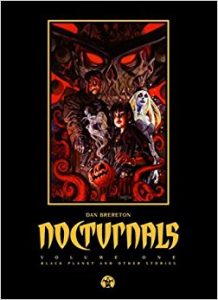 I'm working on more reviews to post, but in the meantime, here's a mini-comic book review from the depths of our collections.
Nocturnals was a comic that came out in 1995, but somehow, I missed it until recently. Looking at this book (which we have in hardcover), it's everything that 90s goth girl me would have wanted in a comic. Horror themed, painted panels, and a cute little spooky girl who goes by Halloween Girl. My only guess is that my friends at the time didn't care for it, so they didn't have it to loan for me. And I was pretty devoted to Sandman and nothing else in 1995, if I'm honest about it.
Still, this is like peak 1990s indie comics. I had a near constant internal soundtrack of Misfits and Tiger Army while I read this tome. (The hardcover is both gorgeous and deadly–don't drop it on your toes or fall asleep reading it if you're holding it over your face.) Jeremy's dug up a few more graphic novels from these series to read, and I can't wait until I get a chance!
If you're looking for this one, the hardcover ain't cheap, but some of the paperback graphic novels are more reasonable.