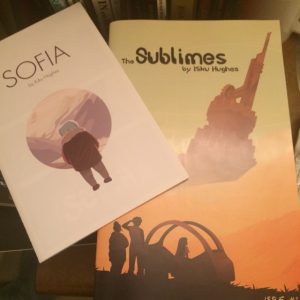 This weekend at GeekGirlCon, Jeremy picked up a handful of comics from local and indie creators. These two by Kiku Hughes were in the stack, so I read them both while feeding the cats.
Sofia is a super short comic with very little text, but the illustrations are gorgeous and tell much of the story on their own. It's a bittersweet and beautiful little comic.
The Sublimes is a longer one, more the length of a regular comic, with its own special beauty. It's definitely the start of something much bigger, and I'm looking forward to following this one!
The awesome news is that The Sublimes is also a webcomic, so I can read it online until I get an opportunity to get more of these lovely comics! You can find it here!