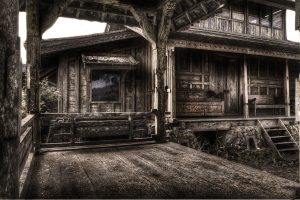 One of the panels I spoke on at Spocon, with Rosemary Jones, Fallon Jones, and Kaye Thornbrugh, was about Gothic literature. At one point in time, I was thinking about going back to school for a Ph.D. in Literature, with a specialty in sexuality in Victorian literature. So this panel was just my cup of tea!
We started out by talking about some of the hallmarks of Gothic literature: mysterious and imaginative aspects, medievalism as a setting, featuring the macabre and morbid, and with an emotional aesthetic, most often evoking terror.
From there, we talked about some of the best known Gothic works, including those by the Bronte sisters (Wuthering Heights and Jane Eyre), Bram Stoker's Dracula, Mary Shelley's Frankenstein, and more. We also talked about other frequent topics in Gothic literature, like the love triangle between a female protagonist, one man she should marry, and one man who is utterly wrong for her, based on outward appearances. (Of course, the plot twist is that the "utterly wrong" man is the one she winds up with.)
There's much more that can be said about Gothic literature than we had time to discuss on our panel, and much more than I can talk about in a blog post as well. If you want to find out more, the Wikipedia article on Gothic fiction is a fantastic starting place!