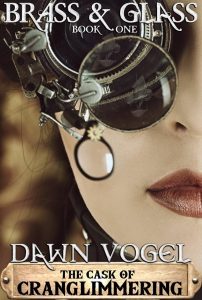 Since I was at Spocon this past weekend, speaking on panels, I had a few opportunities to tell people about my books. I only had two books with me this weekend–Sparx and Arrows and Brass and Glass.
Because Sparx and Arrows is a small book of short stories, it's pretty easy to describe as "short stories about super heroes". Brass and Glass can be both harder and easier to distill.
I've taken to explaining it as "it's like Firefly if it was set on an airship." For people who know Firefly, they know exactly what that means. And while there are definitely differences between my book and Joss Whedon's show, the comparison is apt.
Some people's elevator pitches are more of a mash-up of two other things–for example, saying a book is like Phantom of the Opera meets Glee. (I don't think this book exists. I might want to get my hands on it if it does.)
And other people don't necessarily reference any known media when they talk about their books. Sparx and Arrows is like that. If the heroes I've included there are like other heroes, I'm not aware of the comparison. So for me, it's just "short stories about super heroes".
Any way you look at it, though, it's very valuable to be able to distill your book down to a short phrase like that. Then, when someone asks you about your book, you don't have to talk their ear off–you can just give them the "sound bite," as it were, and then tell them more if they ask!