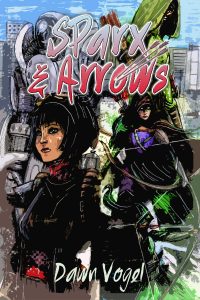 I've set a number of my short stories in a place called Cobalt City, which is part of a shared universe. Right now, there are about half a dozen writers working in the shared universe; a bunch of us are also in a Cobalt City game, run by the creator of the universe (who also writes in the universe).
A few months back, I talked a little more about writing in a shared universe at Girl Cooties. Since then, I've added more Cobalt City writing to my schedule–though I'm not ready to tackle a Cobalt City novel yet, I'm happily writing short stories in my little corner of the universe!
My plans for the future include stories featuring Gray Dawn and Dulcamara, two characters who I've added to the setting. And, of course, I plan to return to the 1950s with Sarah Castile (the alternate Huntsman from "Red Scare" and "Nochevieja") and sometime in the 2000s with Kara Sparx and Snowflake.