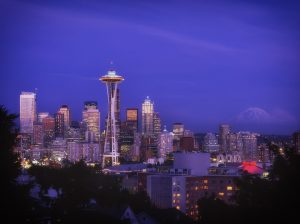 Today we're running around playing tourists with some visiting friends. And though I've lived in Seattle for 10 years now, I find that there's always something new to see or learn when I've got friends and family visiting.
You may think that you already know everything about the place you've lived for years, if not your whole life. But someone else might get you looking at things in a different way, because it's all new to them. And then you've got a head full of thoughts that weren't there before, and maybe some ideas that stem out of that.
Even if you don't have visitors, taking a day to explore a place where you live can be a great way to change the way you look at the world around you. You might see just the right thing to spark an idea for a story, or you might find the breakthrough you need to get around a problem with a work in progress that's been plaguing you. Any way you look at it, the change in perspective gives your mind a break from the daily slog, which is valuable in and of itself. So get out there and enjoy!