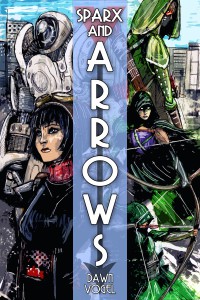 I've just published my first collection of short stories, Sparx and Arrows. It contains five super hero stories featuring Kara Sparx and three different incarnations of the Huntsman. It's set in the Cobalt City universe, which my friend Nathan Crowder originally developed. But he lets other people play in his sandbox, so Jeremy writes his Kensei series in that universe as well!
The cover art is by Luke Spooner of Carrion House, who is one of our usual artists at Mad Scientist Journal, and always up for a challenge. With only a couple of reference pictures, he nailed the looks for Kara Sparx, Lumien, and all three of the Huntsmen. And he did so in such a way that makes this ebook look super awesome!
Two of the stories contained within, "Daddy's Little Girl" and "Unexpected Sparx," appeared in previous anthologies of Cobalt City stories. But the remaining three stories, "Red Scare," "Big in Japan," and "Blast from the Past," were all written exclusively for the collection. The whole thing is about 25,000 words of fun super hero stories, all of which involve a female protagonist (though I do let one of the Huntsmen share the protagonist spotlight with Kara in the last story). Two of the stories also include one of my favorite heroes of Cobalt City, Snowflake, who will be getting his own collection of stories from Jeremy in the next month or two. As we joke at home: "Warning, contains Snowflake."
The collection is already available on Amazon for Kindle, and will be available as of January 1st on Smashwords for other e-readers.