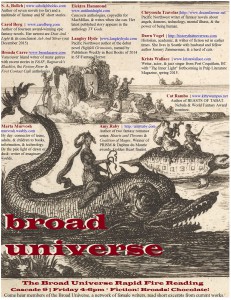 Norwescon schedules have begun popping up. I figured I'd add mine to the mix.
On Friday, I will be in the dealer's room, helping out my friend Friday by selling tea at her booth (Friday Afternoon) from 9 a.m. to 3 p.m. (with a short break to go listen to Jeremy read at 10:30 a.m.).
Friday afternoon, between 4 and 6 p.m., I'm taking part in the Broad Universe Rapid Fire Reading (Cascade 9). I will be reading "One for Every Year," and I am told there will be chocolate as well. And many other women reading stories too!
Saturday and Sunday, I'll theoretically be at the convention, attending a few panels and otherwise hanging out. There's a chance that I will decide to stay at home on Sunday, but that remains to be seen. As I'm trying to get in a lot of words on my novel on the weekends, I may need Sunday to stay on target!